Daily Prayer for Family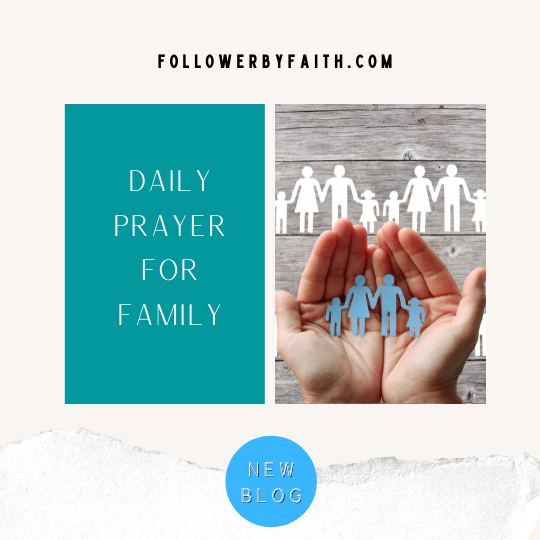 Daily Prayer for Family
Dear Lord,
I come to you today asking for protection of my family. You say in Deuteronomy to be strong and courageous. Not to be afraid nor panic; that you will go personally ahead, and You won't fail or abandon us. Help me to keep this in mind when I am worried for my family. Guide them, go ahead of them, make their paths straight. Place a hedge of protection around all of my loved ones.
Bless my family with wisdom, for you say wisdom will protect us. Guide them in their paths and help them to keep you first in their lives. Protect those who haven't accepted you as their savior yet. Help me to be understanding and to be a good example to them.
Psalm says to let all who take refuge in you be glad; let them ever sing for joy. Spread your protection over them, that those who love your name may rejoice in you. Further in Psalm, it says may the Lord answer you when you are in distress; may the name of the God of Jacob protect you. I pray for my family that are in distress for you to protect and watch over them. 
Psalm 46 says You are our refuge and strength and an ever-present help in trouble. Be my family's refuge, give them strength, be their help in trouble, and place a hedge of protection around them. Give them strength in their struggles. Deliver my family from their enemies, their strongholds, addictions, anything that oppresses them, protect their health, and bless them with healing. 
I know what you have done in my life, and I know you can do it for them too. Please keep my family and loved ones safe. Protect them always; bless me with wisdom to know how to be there for them, and witness to those loved ones who don't know you.
I take peace knowing my family is protected because…
you say we are Loved.
we are fearfully and wonderfully made. 
we are chosen.
we are dead to ourselves and alive to the power of God. 
Because you sit on the throne now and forever, I find comfort knowing Your Will, will be done.
In your name I pray,
Amen
I hope you found this prayer for family helpful. Make sure prayer is a staple in your household. Here's some resources showing the power of prayer. There's nothing more beautiful than seeing a family around the table bowing their heads in prayer. Keep prayer alive, it's essential for a strong relationship with our Father. Never stop praying for your kids and family, they are never too lost for God to find them. He leaves the 99 for the 1, never lose faith.
The Power of Prayer: Family, Food and Faith
Prayers for the Battlefield: Staying MomStrong in the Fight for Your Family and Faith
The Power of Praying for Your Adult Children
As an Amazon Associate I earn from qualifying purchases. This post may contain affiliate links. If you purchase something through one of those links it won't cost you anything extra, but we'll get a small commission to help keep the lights on. We are reader funded.
Feedback:
Sign up for our Newsletter before you go!
Head over to our Instagram if you missed the daily verse!
Be a light in someone's life today. Share your favorite blogs to spread some positivity, love, and joy! Check out our Social Media and follow to stay up to date and see some regular inspiration.
Facebook | Instagram | Pinterest | TikTok | Cash App
Have a suggestion…
We hope you found this daily prayer for family helpful. Have a suggestion for a devotional topic or Prayer topic? We'd love to hear it here! 
Prayer Request 
Feel free to submit a prayer request if you would like to have us praying for you and your loved ones! Don't forget to sign up for our Newsletter on the right at the top widget on desktop, or below this post on mobile!